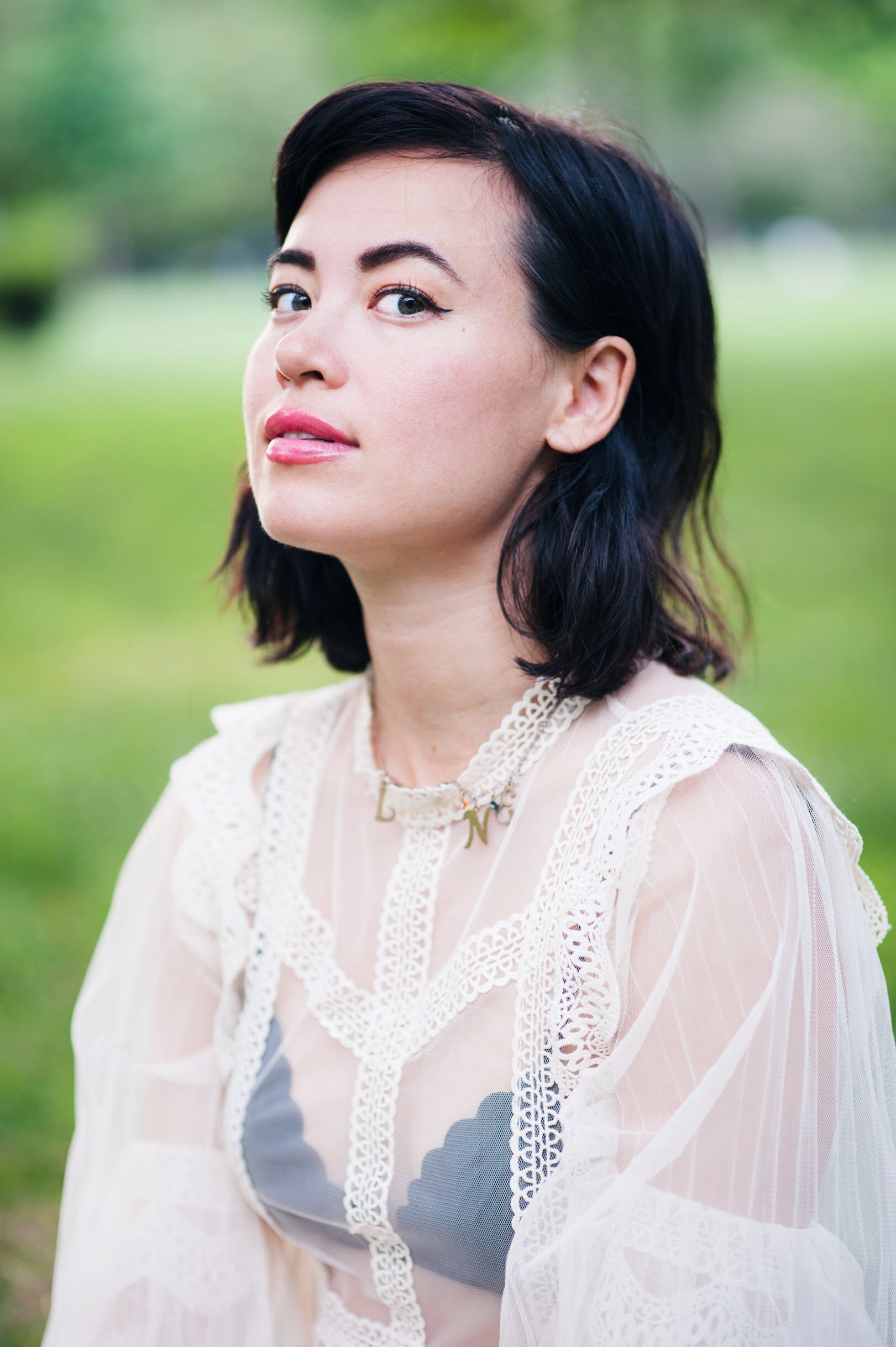 Meet Leanne


The Danielle Lurie Team is in awe of this month's super woman Leanne Mai-ly Hilgart, Founder & CEO of VAUTE. Leanne is using fashion as her vehicle to create change for all - Humans, Animals, Earth - and we are in full support!
Leanne became an animal activist when she was eight years old. After reading Deepak Chopra's 7 Spiritual Laws of Success, which asked the question, "How can I serve the world with who I am?", Leanne stepped away from her Ford Modeling career and MBA in 2008 to launch VAUTE (V for Vegan + Haute for High Design), the world's first vegan apparel house. Although it was the bottom of the recession, Leanne believed that there was no time like the present to follow her passion and present it to the world. Without a background in fashion or help from outside vendors, Leanne bootstrapped it for 7 years and her hard work and dedication to her mission has paid off by being named "Most Influential Designer" by PETA! Following fashion week, CNN reported, "The rebel of fashion week, breaking runway history - Hilgart is the next Stella McCartney."
We are excited to introduce you to Leanne and see firsthand why Conde Nast calls her "A Gamechanger, embodying courage, creativity, and conviction."
The DLT: What is your superpower?
Leanne Mai-ly Hilgart: I love finding the win win win. When goals and talents come together through that invisible intersection and makes the most of everything.
The DLT: What is the best piece of advice you have ever gotten?
Leanne Mai-ly Hilgart: "Nobody knows what they're doing anyway." Ricky Gervais
The DLT: How do you structure your days? How do you start your days? When does your work day end?

Leanne Mai-ly Hilgart: Ask me this a year ago, 3 years ago, 10 years ago and it's all a different answer. "How do you want to live?", I believe that this is the question we need to constantly be asking ourselves while embracing that the answer will be ever-evolving.
I used to strategize my days for the outcome, for the productivity until I discovered a weird counter-intuitive truth. The more we put our human needs first, by humbly accepting our limits, our human bodies, minds and hearts - the more productive we are. This truth is the opposite of what society teaches us about life as women. We are raised to be people pleasers, to be perfect, and now as career women to be hustlers, to be machines. We are not machines, we are human beings. As women, it is important to learn ourselves inside out and create a strong relationship with our own voice, body, and needs. We were not created with only an On Mode (work) and an Off Mode (sleep), rather we were created to also play, love, create, explore and restore. Changing our mindset to believe that these self preservation actions are not selfish rather thoughtful will empower each of us to take care of ourselves so that we are not spilling our unmet needs onto everyone else.
I structure my days in order to meet my Big needs in Small ways.
Sleep is extremely important to my productivity in both work and life. There is nothing worse than starting a day out of anxiety or tension. If I wake up and my body feels as if it needs more time to rest, I go back to bed. For years, I did not sleep well and I have had to learn how to get myself to a place of relaxation. Part of my relaxation comes from scheduling a workout, whether it is yoga, barre or a run, I base my workout on what I need that day. I also feel energized when I can organically see someone that I love and I now live with and near many best friends for this reason!
I also love making lists. I keep several lists running constantly (handwritten, Google Pages and Notes on my phone) to help me see what's happening now as well as what I need to do in the future. For years my lists used to run my life but now I make life my priority and make the lists work for me! I figure out the 3 most important things to create or accomplish that day to move towards my vision, and if something is draining on my list I make sure to follow it with something nourishing!
Just as I begin my day, I switch into focusing on receiving good energy for the evening in order for me to sleep well. I end any work related communication at 7 pm, unless I am so pumped that I can't stop working - which does happen on occasion. I then read a book, I am currently re-reading The Joy Diet by Martha Beck or take a bath, and do about 5 minutes of yoga poses before bed.
The DLT: Who is your role model and why?
Leanne Mai-ly Hilgart: I swear this isn't a kiss-a** answer, but without a doubt it is Danielle Lurie! She is fearless- SO beautifully alive- feels a ton, gives so much to those she loves, and is constantly learning herself. She doesn't put up with what she doesn't want, and she is open to life to give her more than she could ever dream. It is amazing to watch her life unfold!
The DLT: Now to get to the fun real estate questions! What is home to you? How can a home make you better at the work you do?
Leanne Mai-ly Hilgart: I didn't have a home for most of last year, so I had a lot of time to think about what home means to me and notice how the word "home" affects me. To me, home is being with the people I love while doing life honestly and vulnerably with them, creating spontaneous celebrations, giving a space to feel seen and heard while processing human experiences that are challenging and triggering, knowing no matter what happens we are okay because we all have each other.
Finding my "home" has made both my work and overall well-being so much better. I am reminded that no matter what happens externally, I am lucky to be alive, to love and be loved, and to experience this world.
The DLT: What is your dream neighborhood and why?
Leanne Mai-ly Hilgart: I am so fortunate to be living in my dream neighborhood now in East Williamsburg! My neighborhood however isn't a "dream" because of a location, rather because it is filled with people I love! I can also walk to everything and see some of the most amazing independent stores and unique cafes that were started from someone's dream - that is so inspiring! The only thing I would add is to have my family near and to be closer to the water.
The DLT: What is your must-have for your dream apartment and why?
Leanne Mai-ly Hilgart: I love being outside as much as possible! In fact, I am sitting in my backyard as I answer these questions, so without a doubt, I must have a backyard!
The DLT: What is one thing you wish everyone knew?
Leanne Mai-ly Hilgart: This world can be very loud. If you aren't sure what hurts, why it hurts or how to fix it, stop asking everyone else. Instead, tell the world to "shut up" so that you can get to the quiet, and actually hear the answer. You know yourself better than anyone else - trust that!
The DLT: How can people keep up with your activities?
Leanne Mai-ly Hilgart: The best place to see what I'm up to is on our Website and Instagram → @vaute_nyc
Leanne has a special gift for you!
VAUTE creates shockingly warm winter coats built for a Chicago winter (where Leanne is from!), of 100% cruelty free and recycled fibers, sewn sweatshop free locally.

Don't miss the launch!Pre-orders begin September 10th and are 50% for the first 24 hours! Sign up for Vaute's newsletter + follow on Instagram.
Use code DaniellesFavorites

after September 15th, to take 25% off Vaute's winter coat!
With over $100 million in real estate transactions under our belt and our business doubling in size each year - coupled with Compass' rise to a valuation of $6.4 Billion - we are ready to help our clients achieve their real estate goals! Click here to find out more about The Danielle Lurie Team!
This blog is published by The Danielle Lurie Team.
A long time women's rights activist, Danielle has created "Where She Lives" in order to give everyone access to the authentic journeys and struggles of entrepreneurs that identify as female. Home is often a sanctuary, and we have investigated what our fellow female entrepreneur needs to make their home a salvation from their daily work. We hope this blog both inspires you and brings up new ways of seeing the world and your own journey. To contact us to help with your own home process, or for any other reason, please reach out to us here.